New media
Read the new edition of Kultura Connect magazine: the largest issue to date.
Nowe media
Przeczytaj nową (i jak dotychczas największą) edycję czasopisma Kultura Connect.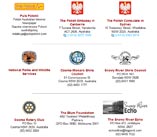 Donors
Kosciuszko Heritage sincerely thanks all of its benefactors - individuals, businesses and organisations - for their generosity.
Ofiarodawcy
Kosciuszko Heritage serdecznie dziękuje wszystkim darczyńcom - osobom, biznesom i instytucjom - za ich hojność.