Tadeusz Kosciuszko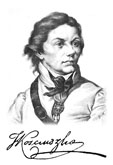 Mount Kosciuszko - Australia's highest mountain - is named after a noble individual.

Tadeusz Kosciuszko, born in 1746 in Mereczowszczyzna, Poland, was a solider and commander. Having graduated with distinction from a military school in Warsaw, he studied in Versailles, France, before returning to the Polish Army, in which he held a high-ranking military post.

He left for America, where he fought for the independence of the American Colonies, believing in the ideals of freedom and democracy. Appointed Deputy Engineer in the American Army, Kosciuszko later became a Colonel, and finally a General. He became a friend of George Washington and Thomas Jefferson.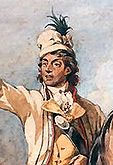 For Kosciuszko, slavery was the darkest blight on a free America. He pleaded for the emancipation of slaves in his final will, and left his entire fortune to buy them out and give them an education.

After seven years in America, he returned to Poland, which was in a state of crisis, having been partitioned by stronger, aggressive neighbouring countries (Russia, Prussia, and Austria). During the 'Second Partition of Poland', Kosciuszko mobilised the whole nation to defend itself by using guerrilla-type warfare. He was wounded by the Russians in Maciejowice and taken as a prisoner-of-war, spending two years in solitary confinement before being released.

His subsequent years were spent visiting America, England and France. He later settled in Switzerland, where he died in 1817.

Thomas Jefferson called Kosciuszko "as pure a son of liberty as I have ever known". Napoleon Bonaparte called him "the hero of the North" and Jules Michelet, the French historian, called him "the last knight". Lord Byron said about him: "That sound that crashes in the tyrant's ear: Kosciuszko!"